Sponsor a comic!
For $40, one of the black and white comics will be digitally colored. The colored version will then be uploaded to the site with your name listed as the sponsor.

Additionally, you will receive a high resolution print in the mail of your comic.

No other prints or sponsorships of the comic will be taken after that point.

Please specify in the notes the date of the comic you are sponsoring, and also what name you wish to have listed.

Want to donate money but don't see anything you'd like to buy? Our Tip Jar is open!






We often have auctions running!

Visit our Furbid page here!

SuperSponsor a comic!


For $65, the linework will be printed out on high quality paper and hand colored. The colored artwork will replace the black and white version online and you will be listed as the supersponsor for the strip.

The original colored art will be mailed to you. No prints will be made, and no further sponsorships of the comic will be taken.

Please specify the date of the strip in the notes when you check out.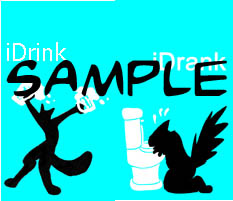 The infamous iDrink / iDrank badge
is for sale! $7 for a business card
sized badge that is reversible. One
side is for before parties, the other
for after! Badge is laminated and
includes attachment clip

PRINTS !
All Prints are 8.5x11 inches and printed on high quality glossy Photo paper. We will be happy to substitute cardstock upon request, but the colors may not come out as vibrant. If you wish to have your print signed, please specify in the notes, All prints are $10, plus shipping.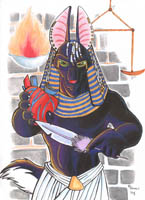 Anubis the Judge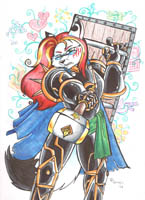 2008 Portrait

The Yearly Self Portrait Series


Every year I do a 'portrait' of myself that sums up
the events of the past year. These images are heavy
in symbolism and usually convey one large lesson I
learned with lots of smaller ones scattered about.
explaining these images would take a lot of work, and
sometimes people prefer to unravel the mystery themselves.
These are extremely popular images, which makes me happy
as I often wonder if they're just overblown navel gazing at times.

You can purchase the entire series for $45, and as a bonus you
will receive the very first self portrait image in the series. That
image was not originally intended to be one of the self portraits,
but ended up launching the series anyway.
Click the button above to order the whole set!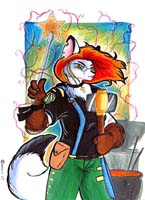 2007 Portrait